Blog Tour and Giveaway: Undone: Rebecca Shea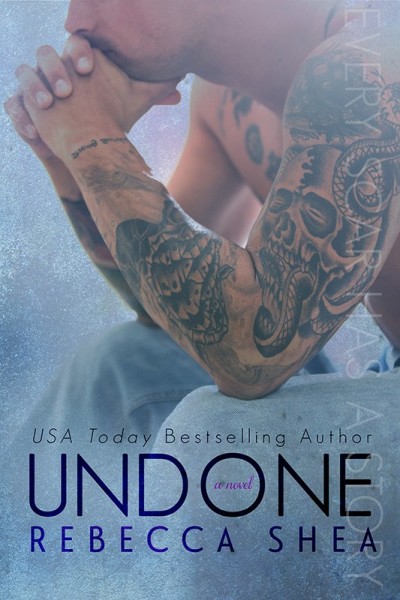 Undone
Add to Goodreads
Buy from Amazon/B&N/iTunes/Kobo
Companion to "Unbreakable" -- Landon's story
I've found it's easier to share my body but not my soul. I need no one, yet I crave her.
Self-assured and independent, she doesn't need me—but she wants me, and undeniably I want her too. At war with myself as I battle the secrets of my past, I don't know if I can allow her to see the darkest parts of me, the parts I've left untouched—undone.
As she chips away at the walls I've built for years, I fear those secrets will hold me hostage from love—forever.

**This book is a Contemporary Romance and contains mature subject matter.It is not intended for those under 17 years of age.**
"So you're like a modern-day saint," I say. "Saving people, dogs...what else do you have up your sleeve?"
She laughs. "Ha! Hardly. I don't save anybody or anything, I just like to help."
"I like that about you, Reagan. I like that you like helping people—even dogs." She picks up a small handful of sand and lets it run through her fingers. "And I'd like to see you again, but I'm not sure I could give you what you want or need."
"How do you know what I want or need?"
"I guess I don't. But what I do know is that I like talking to you."
"You're breaking your own rules, Champ. You've seen me twice—yesterday and today. You said it yourself you don't see someone more than once."
"Ah, you're wrong. I don't sleep with them more than once, not see them more than once."
"Oh, that's right; as long as we don't sleep together, we can be friends—hang out, and see each other again and again," she says sarcastically. Turning toward me, she leans in too close, her nose pressed against the side of my face. I can feel her lips hovering just next to my ear. "But what happens when one of us wants more?" she whispers. "Because one of us will, it's inevitable. What happens then? You fuck me and leave me—never see me again?" I turn to meet her crisp blue eyes. She's leaning in to me—staring at me.
"Do you want to fuck me, Reagan?"
"Not if I can't see you again—no."
I don't connect emotionally with most women. I let a woman "in" once--to a place in my heart I really didn't know existed, but I let her go, knowing she needed something I could never be. I don't do romance, don't do relationships, and I definitely don't do love.
We met Landon in
Unbreakable
. He is the man that stepped down and gave up the girl he connected with to her true love. He is the tatted, emotionally unavailable Police Officer. He is so broken, but also so charismatic. He is sexy, commanding, hot, but also confused, scared, and closed off. He does not let people in and protects himself. His history has made him not trust easily and he is afraid of loss. He is loyal to his little sister and best friend and partner, Matt. But is a confirmed man whore and has no plans to change it.
Reagan has recently moved to town to help her Uncle in his bar and is also a Doctor. She is smart, strong, sassy, and determined. She has has her own tragedy in her past that still affects her and also makes her vulnerable and insecure. One meeting intrigues them, even though neither of them were looking for someone.
They both have issues from their past that made them put up walls. Landon's way of coping is to not do relationships. He fucks and does not do repeat performances. Reagan buries herself in work, volunteering, and tries to ignore her pain. But they immediately spark and have good chemistry. They enjoy spending time together even though they are afraid to label it or admit what they want. They have secrets that they do not want to share. They are both afraid of being hurt and further loss. They dance around their attraction an need to be around each other while also not thinking either is ready for more of a relationship.
"I'm going to hurt you, Reagan. It's who I am; it's what I do. I will never physically hurt you– but emotionally, I will wreck you, and I don't want to fucking hurt you. I like you–a lot. But it's inevitable, I'm going to hurt you, and I'm going to hate myself when it happens."
But eventually one of them is going to demand more. And the other one is going to have to quit living in denial and face up to it. They both have fears, insecurities, and a lot of baggage between them. They have to break down barriers, face their pasts, open up, and develop trust to even have a chance of facing their current challenges or a future. There is a lot of denial, pushing away, miscommunication. and running. There are secrets, omissions, and issues to face.
"You know we all have secrets, right? We all have scars; some scars can be seen and others cannot. Every scar has a story and every story needs to be told. When you're ready, I'll be here to listen to your story."
Will they be patient enough and strong enough to fight for each other and stay when it matters most?
It was angsty, surprising, emotional, and drama filled. But it was also humorous and sweet as well. It kept me interested and engaged. Sure, there were times I wanted to shake each of them or at least handcuff Landon down with his own cuffs so he could not always run away when things got tough. But there were also times that I appreciated the way they began to stand up for each other and see that there has to be balance. My heart broke for each of them at times. I became quite invested in their outcome.
"You know when we're done? When one of us is dead. Until then, we're undone. Do you understand?"
I really enjoyed this installment. Rebecca Shea's writing style draws you in. Her characters have depth and flaws, but are still likable. She gives us both points of view that is so critical when characters have such hidden fears, secrets, and inability to share their feelings. The plot was interesting and some twists.
This can be read as a stand-alone, but I still recommend reading Unbreakable first since you meet Landon and his sister, Lindsay and also because it is an amazing heartfelt and emotional story. I love Landon and Lindsay's close protective bond. I also liked getting to know more about Lindsay and his best friend and I enjoyed their interactions and support of Landon and Reagan. I look forward to reading more with them in
Unforgiven.
Thanks to Rebecca Shea for providing me with an arc in exchange for an honest review.
"We all have scars; some scars can be seen and others cannot. Every scar has a story and every story needs to be told."
Undone begins a year after Jess left North Carolina in
Unbreakable
. Landon is back to one night stands and keeping everyone at arms length until he catches sight of Reagan while out on a call one night. He is immediately intrigued by her in a way a woman has never interested him since Jess. When he orchestrates a meeting the next night, his interest only grows.
Both Landon and Reagan have secrets and need to find a way to heal. Landon is stubborn, unwilling to open up and let Reagan in. Reagan pushes and pushes until he snaps, which only sets him further back, and what leads him to heal broke my heart even more than just hearing what it was he was hiding in his past.
After initially not liking Landon in Unbreakable, I loved how his actions turned that book. So to see he had reverted to his old ways was disappointing to say the least. But knowing he was capable of feeling if he let himself, I followed his story willingly. We learn so much more about him, some of which was predictable while other aspects took me by surprise. So much went into making him the man we met in Unbreakable and get to know more intimately in Undone.
Reagan was instantly intriguing to me. A doctor moonlighting at a bar was an interesting introduction to her character, as were her rules about giving out her phone number. There was so much hiding beneath the surface with her that I was drawn to her quickly and she was such a strong individual that her stubborn streak often led to interesting story twists.
I loved Matt and Lindsay too. They were always nearby or directly involved with supporting Landon and Reagan, both as family and best friends. I cannot wait for their book,
Unforgiven
, to hopefully learn what was going on behind the scenes in this book. We get a lot of hints that something is going on between them, but other than where the stories overlap in public, we only get Lindsay's unwillingness to say anything to Landon. On top of waiting for their book, at so many points, Lindsay brought the perfect comedic moment or insight, depending on the situation, that I can't wait to see things from her point of view.
Once again, Rebecca Shea's writing pulled me in from the beginning and wouldn't let me go. I can't decide if I like it as much as or more than Unbreakable. There were several surprise twists and plenty of sweet moments from both main characters that I had a hard time putting this down to get anything else done.
Thanks to Rebecca Shea for providing me with an arc in exchange for an honest review.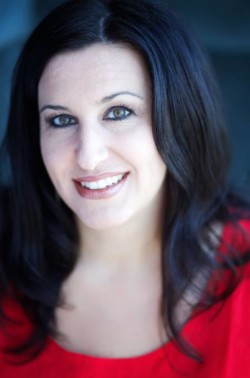 Rebecca Shea is the USA Today Bestselling author of Unbreakable. She lives in Phoenix, Arizona with her family and her beagle, Miles. From the time Rebecca could read she has had a passion for books. Rebecca spends her days working full-time and her nights writing, bringing stories to life. Born and raised in Minnesota, Rebecca moved to Arizona in 1999 to escape the bitter winters. When not working or writing, she can be found on the sidelines of her sons football games, or watching her daughter at ballet class. Rebecca is fueled by insane amounts of coffee, margaritas, Laffy Taffy (except the banana ones), and happily ever afters.
Rebecca is giving away 3 ebooks of Undone, 3 signed paperbacks of Undone, 3 ebook sets of Unbreakable and Undone, and a Grand prize of a Kindle Fire.