Blog Tour: Even the Moon Has Scars: Steph Campbell
Genre: Contemporary Romance
Released October 28, 2014
One night to set each other free.
Almost dying from an undiagnosed heart condition means every second of your life is a precious gift to be guarded.
Lena Pettitt was born a miracle.
And her parents never let her forget it.


Even if that daily reminder kept her from experiencing the one thing they were trying to protect most--her life.
Gabriel Martinez's heart has been ripped out.
His pride has been stomped on.
Oh, and he now has an arrest record that's caused an even bigger rift between him and his DA mother. All for a love that wasn't really true.
Now he's exiled to his grandmother's, working on his late grandpa's old Corvair when a shivering girl knocks on the garage door. Lena, left alone for the first time ever, has locked herself out of her house--in the snow. Gabe knows he could help this girl get back inside her house--but that may mean missing the next train to Boston to pick up the part he's spent eight weeks tracking down. She can wait for him at his grandmother's or…
A few hours, an aluminum valve cover, and some strong coffee later, neither Gabe or Lena can feign disappointment when they race to the station and arrive just as the last train home from Boston is pulling out.
As jaded as he is, Gabe can't deny the fact that he's excited to spend the night exploring a city he knows nearly every corner of, with a girl who sees magic in the simplest things.
Lena has been waiting for her tiny world to crack open her entire life. Now that it's finally happened, she finds the only thing she can focus on is the unexpected tour guide who opens her eyes to possibilities she never imagined.
All they have is this one night, together, under the bright moon in a city full of hidden beauty.
It's one night that will change how they see the world and the paths their hearts will take forever.
"So what happened?" Lena asks. She takes another sip of her drink, then rests her hand on the the laminate countertop near mine. I want to focus on that. How close she is. How close she's allowing me to be to her for the first time tonight. What I don't want to be doing is talking about my ex-girlfriend. "Why aren't you together anymore?"
Making love to her was like sleeping with a starfish.
She loved the thrill of a political protest more than she actually loved me.
She was happy to see me hauled off to jail for her cause, because it added a little drama to her life.
"I don't know, I guess you can only make exceptions for people for so long before they all just sound like excuses."
"You, or her?"
I suck in a quick breath before answering,"Maybe both?"
She stares down at her wrist, spinning the blue beads on her bracelet as she says, "But you loved her."
It isn't a question.
I nod slowly. "I did."
"And now--"
"Now, I've moved on." I shrug.
"Have you really?" Lena asks. "Because when she hugged you--"
I don't really understand why we have to talk about this. So we ran into Jemma, it doesn't mean the entire relationship needs to be rehashed over pie. Doing that will only lead to me having to discuss my arrest, and that's not something I want to talk about with the girl who looks at me with those big brown eyes that scream trust and understanding and all the things I don't even come close to deserving from someone.
I turn my barstool toward her, brushing her knee with my own. The simple touch is more electric and intimate than sex with my starfish ex.
"Look, Lena," I say, as I wrap a straw wrapper around my index finger. "This isn't something I want to get into."
"You've asked me a bunch of questions tonight," she presses.
That's fair. I've spent the last several hours trying to drag every bit of information I can out of this crazy mysterious, beautiful girl.
Our server comes by the table to refill our drinks. "Can I just get the check?" I ask, hopeful she'll just let it drop after a change of venue.
"I'm not finished," Lena says, motioning to her half-eaten piece of pie.
"I'm ready to go," I say.
"Oh, because I asked you a question you don't want to answer now?" she demands.
"No, Lena. I'm just ready to go."
"Liar," she mumbles under her breath. It'd be cute if it weren't so damn accurate.
I pull out my wallet as soon as our check arrives and hand over my debit card.
"I'm not a liar," I say, it comes out more harsh than I intend. "It's just--being in love doesn't define you. No matter what romantic idea you have in your head, love doesn't go to the most deserving. It's not something you collect, like, the more the better. Love isn't a trinket passed down. It's a wound left behind. Love changes you, but not always in a good way. It's a goddamn scar."
"It's just--being in love doesn't define you. It doesn't go to the most deserving. It's not something you collect, like, the more the better...It's a wound left behind. It changes you, but not always in a good way. It's a godd*mn scar."
Gabe kept giving his all to one girl who never appreciated it and just got him in trouble. Now he is shipped of to his Grandmother's house while his mother "fixes" his situation. Lena is a "miracle", a survivor of a heart defect, and leads a completely sheltered life. And in the rare instances she is alone, it seems that something usually bad happens to her. But one day she is given another chance.

Due to unforseen circumstances these new acquaintances find themselves on an adventure together in the city. Gabe is the tour guide and Lena has a chance to see things that she never has.
This is my one shot. This is my one day of not being the pain in the a** sister or the miraculous daughter. This is my one moment to just be Lena.

A promising night goes awry with some missteps, miscommunication, and unwanted encounters. But sometimes a silver lining can be found and things can turn around. These two have one eventful night that will change them both in ways they never expected. Maybe they are the one to help heal the scars they have been living with alone.
How can the world tilt so easily--so quickly and irrevocably, and leave everything looking so different in the company of someone you hardly know?
They both have scars from their past, family dynamics issues, and have felt isolated. Gabe's family life is not supportive and issues with his ex are pretty chaotic. Lena has been completely sheltered and smothered her whole life and treated like a glass doll that could break. It was interesting to see these two stumble through awkward situations, build a connection, and start to expose their secrets and fears. Lena needs to experience life and Gabe needs to learn to open up, find a purpose and have someone believe in him. They seem like opposites, but share some common needs.
Isn't that what life is about? Collecting scars. Touching people with them? Having them as permanent reminders when people leave?
"...the thing that you do--the only thing you really can do--is you fill those cracks with something else...I think sometimes time helps. Sometimes you have to let someone else help you fill those cracks. You fill them with laughter. With adventure. And hey, maybe even Boston Cream Pie...You fill them with love, Gabe."
This is a quick, light YA read with likable characters with some emotional baggage. It was sweet, funny, and had just enough drama and tension to keep it interesting.
I was gifted a copy in exchange for an honest review.
Lena has lived a sheltered life. Very sheltered. Having survived a heart condition as an infant, her parents worked hard to keep her safe and healthy. Her naivete added a freshness to the sights of Boston, and though she was embarrassed at her lack of experience she wasn't against the new adventure, even as she faced fears she had never considered.
Gabe isn't quite sure where he fits into his world. His ex-girlfriend only gets him into trouble, and his mother is only interested in her political image.
This story only takes place over the course of one day. One very long day, but one day nonetheless. I loved the way their acquaintance, friendship, and attraction progressed. It was a very natural flow, with the back and forth that comes from not having much background on a person. Their timeline was sweet, and perfect considering they end up spending nearly 24 hours getting to know each other.
I loved what happened the more time the two spent in the city. From Lena's perspective, the newness and novelty of spending time with someone who didn't treat her with kid gloves gave the same fresh, eye opening experience she felt. And from Gabe's perspective, his usual haunts held new meaning as he shared each with Lena. Through their conversations and questions, they learned things about themselves that needed to be discovered, but could only be learned in such an organic way.
Many of the side characters were frustrating in their treatment of Gabe and Lena. Though most of the storyline is just Gabe and Lena, those moment with Gabe's mother and ex, and Lena's parents had me feeling anger and the similar feelings as the characters. But as much as I didn't like those characters, they provided external conflict that motivated the decision making process of Gabe and Lena during their day together.
This was a sweet story about finding one's place, taking risks, and letting people in. During so much of the story, Gabe and Lena struggle to fit their experiences into their expectations. When unexpected result after unexpected result means their quick trip into the city turns into something else entirely, they each find meaning in the spontaneous journey. This was a quick read, and as a YA book it was also relatively level. It had great, even levels of drama and discovery without feeling over the top or dramatic.
I was gifted a copy in exchange for an honest review.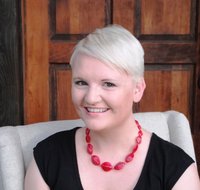 Steph Campbell grew up in Southern California, but now lives in the hot, humid south. She has one husband, four children and a serious nail polish obsession. When she's not writing or taking care of her brood, she's reading or scouring travel sites, always ready for life's next adventure.
a Rafflecopter giveaway